NFPA CODES AND TRENCH DRAIN
Request a UL listed product
Various NFPA codes require surface drainage system components to be made of non-combustible materials. The intent of these codes is to prevent the spread of flame. Since trenches are collection points of flammable liquids and heavier than air vapors, trench drains can spread fire and contribute to smoke development even when empty. All ABT Inc's Polyester Polymer Concrete products carry the UL 723 Classified mark for Class A fire rating for flame spread and smoke development.
PolyDrain PDX - Product Data
PolyDrain PDX 6″ – 24″ Product Data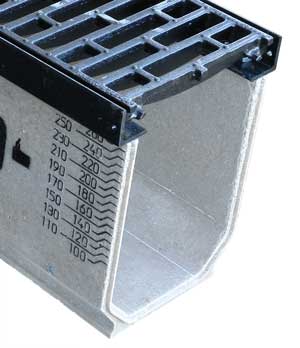 PDX is the first and only versatile chemically resistant modular polymeric surface drainage channel system.  The PDX system allows the designer or customer the ability to select the trench width, depth, and slope as hydraulically required.  No longer do the limited manufacturers' product offerings drive the design. PDX is available in 0% to 4% slope in .5% increments.
PRODUCT FEATURES:
Channels – Manufactured from UL/ULC certified polymeric material, the channels feature a high precision tongue and groove joint for positive alignment and a superior configuration for sealant application.  Available in 6″, 8″ 10″,12″,15″, 18″, 21″, and 24″ widths.  All channels are 1 meter long.
Grate Options – A wide range of grate options exist for pedestrian to airport applications.  Select grates with the right strength, style, and corrosion resistance for the application.
Frame Options – Steel, painted steel, galvanized steel, or FRP styles are available.  Select the best rail material for your application.  All rails are independently anchored into the surrounding concrete so that the encapsulation concrete receives the horizontal loads, not the channel walls.
Variable Grate Retention Systems – Toggle locks are available for low-speed horizontal loads. ABT can assist you in making a suitable selection.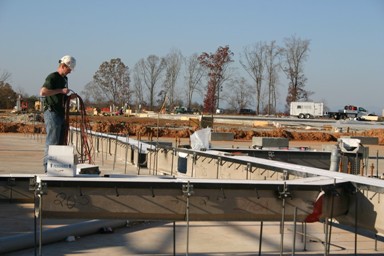 Examples: Run Length vs. Slope
Channel Slope

Run Lengths

Max # Channels or Meters

Max. Feet

0%

–

–

.5%

80

262.5

1%

40

131.2

2%

20

65.6

2.5%

16

52.5

4%

10

32.8
Max Depth for all widths is 19.68"
PolyDrain PDX 6″ – 24″ - Grates + Specs/Details
PolyDrain PDX 6″ – 24″ - Accessories