MHD- POST-CONSTRUCTION INSPECTABILITY
WHAT HDPE AND FIBERGLASS SYSTEMS HIDE
Concrete consolidation under the rail is vital to the longevity of any system in service under heavy loading.  Fiberglass and HDPE linear systems can hide construction defects, which can cause costly downtime and ultimately complete system failure.
TrenchFormer MHD - Product Data
TRENCHFORMER MHD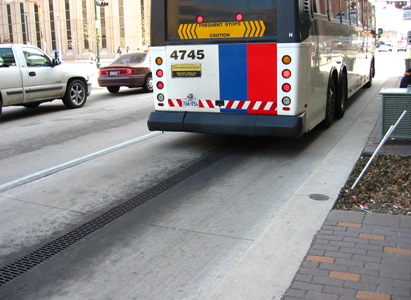 MHD 8″, 12″ or 18″ advanced grate design is not only attractive, but it also provides strength and performance. MHD grates provide the largest inflow area available in cast grates for 8", 12", and 18" trenches. While still lightweight, they far exceed all AASHTO load ratings.
MHD's patented system utilizes two removable stainless-steel pins plus two fixed pins for every two grates providing both longitudinal and vertical grate retention. An average of only one pin must be removed per grate for easy construction and trench maintenance. Additionally, this high-performing industrial trench system eliminates concrete cracking from tensile stress by constrained thermal expansion and contraction that is often found in rigid four-bolt systems.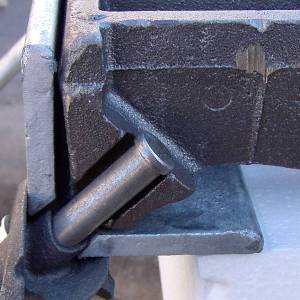 MHD utilizes similar materials (plastic, fiberglass, etc.) between the rails and concrete thus avoiding the potential for failure due to thermal expansion and contraction due to dissimilar material construction.
The system can be configured for any applications special flow and depth requirements. A large range of trench depths, slopes and configurations provides the Engineer with greater flexibility for challenging projects. Additionally, the system is pre-engineered and factory fabricated reducing the potential for construction errors in the field.
MHD is available in both roadway and airport configurations. The roadway configuration maximizes the width of the industrial trench system, thus providing optimal hydraulic capacity. MHD-A maximizes the bearing area and is intended for regional or municipal airports.
MHD SYSTEM DRAWINGS-DETAILS-SPECIFICATIONS
MHD

Standard Roadway Configuration

Description
Catalog
Details Sheet (.dwg)
Specification
MHD 8″

 

Epoxy Coated Frame

MHD 8″

 

Galvanized Frame

MHD 8″

 

Galvanized Frame & Grate

MHD 8″ – Heelproof

 

Epoxy Coated Frame

MHD 8″ – Heelproof

 

Galvanized Frame

MHD 8″ – Heelproof

 

Galvanized Frame & Grate

MHD 12″

 

Epoxy Coated Frame

MHD 12″

 

Galvanized Frame

MHD 12″

 

Galvanized Frame & Grate

MHD 18″

 

Epoxy Coated Frame

MHD 18″

 

Galvanized Frame

MHD 18″

 

Galvanized Frame & Grate
MHD-A

Municipal / Regional Airport Configuration (100,000lbs)

Description
Catalog
Details Sheet (.dwg)
Specification
MHD-A 8″

 

Epoxy Coated Frame

MHD-A 8″

 

Galvanized Frame

MHD-A 8″

 

Galvanized Frame & Grate

MHD-A 12″

 

Epoxy Coated Frame

MHD-A 12″

 

Galvanized Frame

MHD-A 12″

 

Galvanized Frame & Grate